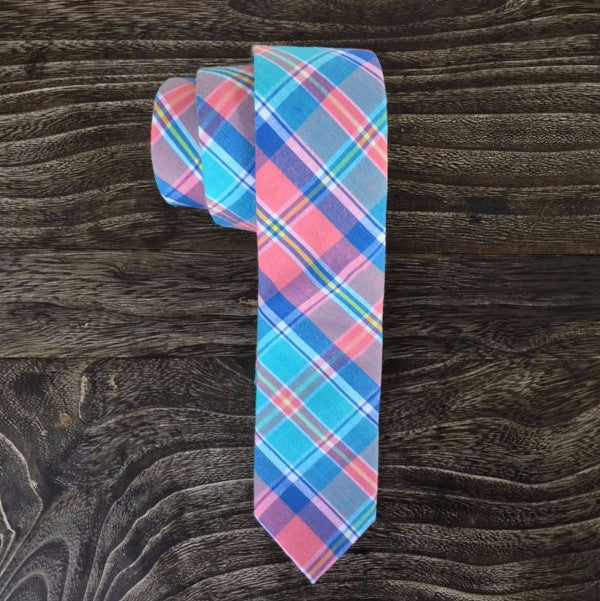 Skinny Tie - Madras Cotton with Teal, Blue, Pink, Yellow & White
$23.99 $29.99
We approve of anything that reminds us of a spectacular rainbow-colored sunset, and this Rainbow Sky Skinny Tie is no exception with its rich colors of salmon pink, light teal, sky blue, and a hint of yellow and white. The bright and bold madras skinny tie is for folks who aren't afraid to wear a lot of color and like to project a carefree attitude. If seasons dictate your fashion choices, we'd say this cotton skinny tie belongs to Spring and Summer. However, we encourage you to break conventions and sport this plaid pastel piece smack dab in the middle of Winter because it deserves to be seen all year round… plus it's always Spring or Summer in at least one hemisphere, right? 
Also, this "skinny" tie (made by California-based company,
Haute Butch
), is not miles long, is just the right width, and is affordable. 
Madras Cotton Tie Specs:
Length: 57" (shorter than most standard length men's ties)
Width: 2" (measured at the bottom)
Material: Cotton; Inner lining: polyester
Dry Clean Only
Dominant Colors: light teal, salmon pink, royal blue
Subtle Colors: yellow, white
About Haute Butch: 
Haute Butch is a clothing company and brand, founded by an African American Butch, that is dedicated to supporting and empowering butch gender expressions by offering a relevant, stylish and unique clothing line as an alternative to men's wear that doesn't deliver a good fit or satisfying choices.