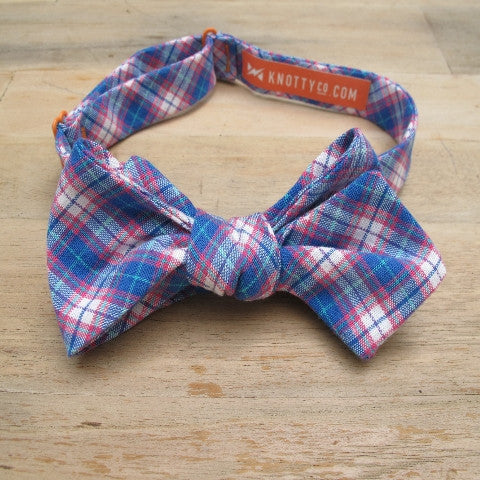 Self-Tie Bow Tie - Blue, White & Red Plaid
$44.99 $49.99
"The spirit of Knotty-ness lives inside us all," says Knotty Co, a San Francisco based company. Knotty Co bow ties are few-of-a-kind and handcrafted from reclaimed materials. Each tie is made in San Francisco on an avocado green sewing machine named Marge. These are self-tie, reversible bow ties, which means essentially you are getting two ties for the price of one.
Cut: Reversible Diamond Point (a delightfully asymmetrical, casual cut) 
*Size: adjustable 14"- 17"
Material: Cotton
Care Instructions: Hand wash and iron when needed. 
*Each piece is handmade therefore some minor variations in size and color may occur