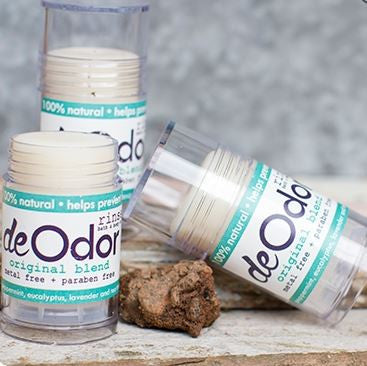 deOdor Stick - Original Peppermint / Tea Tree
$7.99 $11.99
This peppermint-y 100% natural deodorant that works. None of the bad stuff usually associated with mainstream deodorants in this one, only ingredients that you can actually eat.

The Original deOdor deodorant has a clean scent (not too medicinal / herby) and is a blend of 100% natural essential oils of Eucalyptus, Tea Tree, Lavender & Peppermint.

Made with Cocoa Butter, Coconut Oil, Shea Butter, Beeswax, Arrowroot Powder, Baking Soda, Probiotic & Essential Oil Blend.

Travel Friendly

Gluten Free

100% Natural

1 oz. push-up tube 

Please note: This is a deodorant, not an antiperspirant. This means that you will continue to sweat, the deOdor stick will just help to neutralize the odor. In the brand's research & trials, they have found that after switching to a natural deodorant that people tend to sweat less (the body isn't fighting to push out the toxins - sweating after all is a natural detox for the body).