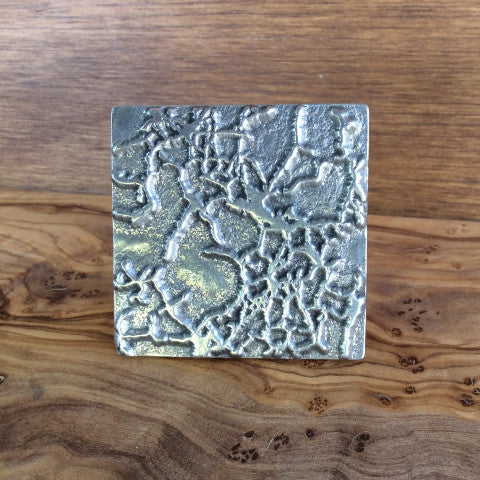 Pewter Belt Buckle - Hickory
$34.99 $39.99
The Hickory Belt Buckle design was inspired by the texture of hickory bark. Cast in lead-free pewter, this buckle measures approximately 2" x 2". Handmade in the USA.
We think the hickory tree is an apt symbol of masculinity. So, for those who like to wear things that hold meaning, did you know that the hickory tree produces a dense, strong, and shock-resistant wood? As well, many types of hickory nut are sought after for their distinctive taste and texture. There are several species of hickory, each with its own set of defining characteristics – just like us.
Leather belt not included.
About f. is for frank: f. is for frank, a collaboration between two female sculptors / metal-smiths / artists, provides a handmade collection of jewelry that is totally unique. Each piece has a textural, sculptural and modern feel that is derived from the artists' background in designing and manufacturing architectural elements. While their jewelry reflects organic shapes and objects in nature, they also enjoy making a huge statement with scale. Cast pewter is their medium of choice. Creations by f. is for frank are designed, sculpted, cast and perfected in their Dallas, Texas studio.