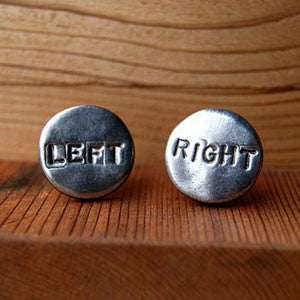 Pewter Cufflinks - "Left" / "Right"
$29.99 $59.99
Do you like to mess around with labels, or do you toe the line when it comes to convention, or perhaps you do both? Either way, with the Left/Right Cuff Links, decide for yourself which side is which when your fancy shirt cuffs call for some links.
The "Left" / "Right" cufflinks are handmade. Designed, cast with lead-free pewter and finished in the USA, they have a nice antique satin finish and measure 3/4 inch in diameter.
The finish on pewter pieces is "live" and therefore will tarnish with time. Pewter items can be polished with a PEWTER polish in order to restore their sheen.
About f. is for frank: f. is for frank, a collaboration between two female sculptors / metal-smiths / artists, provides a handmade collection of jewelry that is totally unique. Each piece has a textural, sculptural and modern feel that is derived from the artists' background in designing and manufacturing architectural elements. While their jewelry reflects organic shapes and objects in nature, they also enjoy making a huge statement with scale. Cast pewter is their medium of choice. Creations by f. is for frank are designed, sculpted, cast and perfected in their Dallas, Texas studio.