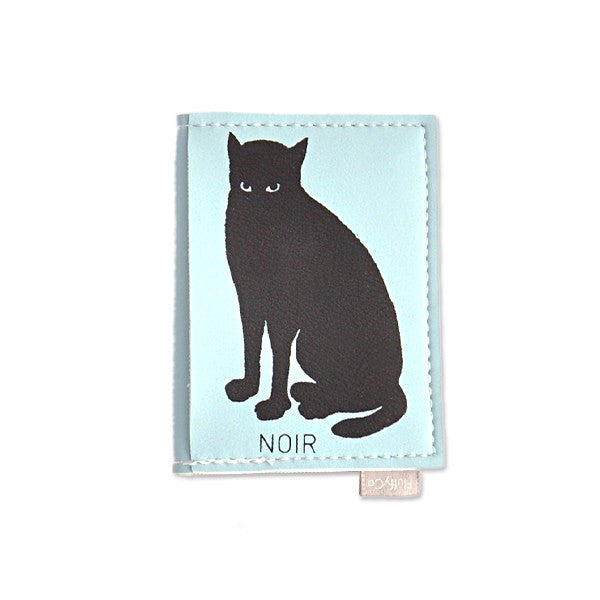 Vegan Mini Wallet - Black Cat
$19.99 $24.99
We at Butch Basix value simplicity, sustainability, and nature-inspired design. We think the Light Blue Vegan Leather ("Naugahyde") Mini Wallet by FluffyCo fits nicely with these ethics. With 2 interior pockets (one of them clear), one outside pocket, and Black Cat graphic, the Mini Wallet keeps things simple so you can carry your ID, some credit cards, and a little cash. It's perfect for going out when you need a compact wallet carrying just the essentials. The Mini Wallet also makes an excellent gift.
Screen-printed on Naugahyde (a high quality, American–made vinyl, also known as vegan leather)
Screen–printed and sewn by a family–owned and operated business in Southern California
Designed by FluffyCo, a company whose mission is to provide sustainable products that are all fabricated in the USA
Very durable and handy
2 interior pockets
1 outside pocket
Approximately 4 x 3" folded
Graphic: Black Cat
About FluffyCo: FluffyCo is an indie design company, located in San Francisco, which produces sustainable and design-driven products. Dedicated to a sweat-shop free ethos, most of their products are created by carefully vetted, small and family-owned businesses in the USA or are hand-made in their own San Francisco studios. Their designs are often nature inspired with an urban twist. They pride themselves on collaborating with small and family-owned businesses to complete the production line. They always consider the environmental aspects of design, using minimal packaging, local production, water based inks (as opposed to plastic based), and often use eco + organic materials. All that and their products are affordable.