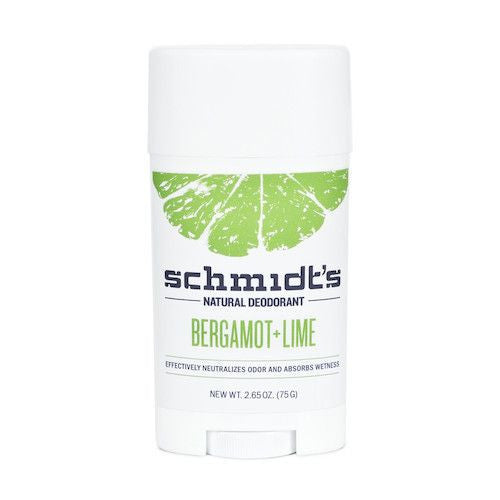 Schmidt's Natural Deodorant Stick - Bergamot & Lime
$11.99
Hooray! Schmidt's has finally come out with a stick version of our all-time favorite deodorant.
Looking for a masculine-scented, all natural deodorant that's free of all the toxic chemicals, is certified vegan and cruelty-free AND actually works? We've found you a brand! Who knew deodorant could be so compelling? We're just as surprised!
The High-lights:
• Award-winning formula provides all-day odor protection and wetness relief.
• Fast-absorbing. Non-greasy, non-sticky feel.
• Free of aluminum, propylene glycol, parabens & phthalates.
• Certified Vegan & Cruelty-free. Gluten-free.
• Made in Portland, OR, USA.
Crafted by hand in the Pacific Northwest, Schmidt's Bergamot & Lime Deodorant is made from a signature blend of 100% all natural ingredients that really works. Their formula effectively neutralizes underarm odor and absorbs wetness without the use of aluminum or other harmful chemicals, and works as well, if not better, than commercial brands (and works better than anything else we've personally tried). Plus the Cedarwood / Juniper warm, woody, soft pine scent smells really good. Schmidt's says the Cedarwood/Juniper blend has antiseptic and detoxifying qualities.
This product is vegan, cruelty-free, propylene glycol-free, paraben-free and phthalate-free. 
Schmidt's Bergamot + Lime Deodorant Features:
100% all natural ingredients that really work
Fresh, spice citrus scent
Disinfectant and skin healing
Vegan
Cruelty-free
Propylene glycol-free
Paraben-free
Phthalate-free
Aluminum-free
Packaged in convenient, traditional stick dispenser.
Ingredients: Butyrospermum parkii (shea butter), Sodium bicarbonate (baking soda), Maranta arundinacea (arrowroot) powder, Theobroma cacao (cocoa) seed butter, Citrus bergamia (bergamot) essential oil, Citrus aurantifolia (lime) essential oil, Tocopherol (vitamin E), Humulus lupulus (hop) extract
About the Schmidt's Brand: Schmidt's Deodorant owner and founder, Jaime Schmidt, was driven by the desire to end dependence on commercial brands that are often out of touch with the needs of today's consumer. Based in Portland, Oregon, the company launched in 2010 with an extended line of body care products. Encouraged by customer feedback and demand, Schmidt's quickly found its niche in the natural deodorant market.