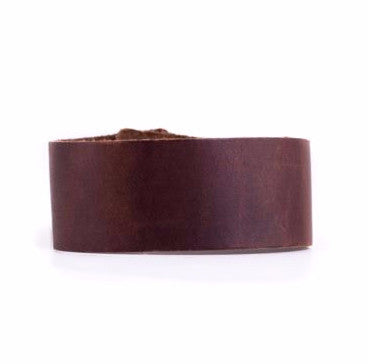 Wide Leather Wrist Cuff - Brown
$15.99
The Brown Wide Leather Wrist Band is a great accessory (considered a unisex wrist cuff by Google bots) for just about anyone and comes with a stud closure (one of the prime reasons we carry it) and two holes for adjustable sizing. It's made from top-grain leather. Cuff measures 1.25" wide x 9.5" long.
There are 3 possible sizing configurations on this cuff:
8 5/8 inches
7 7/8 inches
7 1/4 inches
About Rustico: Rustico is an artisan-based, US leather goods manufacturing company that supports their local suppliers and vendors, and only uses leather supplied by US tanners. Their craftspeople have years of experience carefully designing and crafting each item, all made in the USA. Colors, finishes, cuts, and stitching are designed and refined by true artisans who specialize in a fusion of old-world methods and simple, modern designs. Their leathers are top-grain cowhide, making each product a unique piece that showcases the leather's aged and weathered patina. Random, beautiful, and natural blemishes add texture and variety to each of their leather goods.