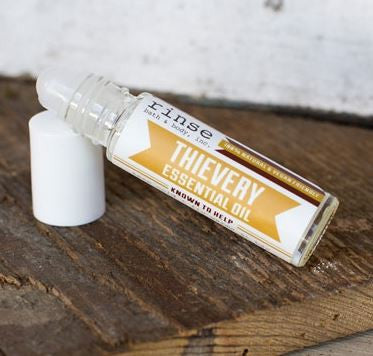 Thievery Roll-On Essential Oil
$6.99 $9.99
Thievery, a blend of 100% natural essential oils of Cinnamon, Clove, Eucalyptus, Rosemary & Lemon (known to help keep cold & flu germs at bay) mixed with Squalane Oil (which is very light & penetrates the skin quickly) team up to create a spot treatment. The roll-on provides convenient and easy application and storage whether you're at home or on the go and need some relief. 
Apply it to the bottoms of the feet, neck, and chest...
100% natural

gluten free

vegan friendly

.15 fl. oz.
We're told the origin of this product's name, Thievery, is inspired by a centuries old legend that explains how certain thieves who robbed plague victims (NOT COOL!) never contracted the disease, and their secret to protection was in their access and use of oils and herbs - turns out the surviving thieves were spice merchants by trade.