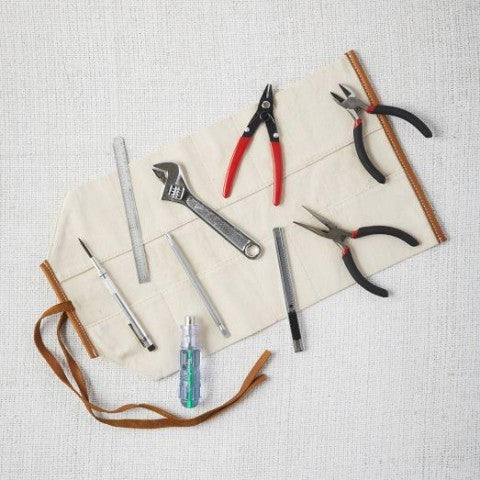 Roll-Up Tool Set (8 Piece) - Natural Canvas
$45.99
What's not to love about a handy set of tools lovingly stored in a vintage-inspired durable, waxed-canvas roll-up pouch? The 8 piece roll-up tool set has everything you need for fix-it emergencies. The kit is portable for DIY folks on the go. And let's be honest, some of us derive as much pleasure gazing at a stylie set of tools as much as we drool over a pair of fancy shoes... which is one reason this Roll-Up Tool Kit in a waxed canvas pouch makes such a great gift.
Set includes:
- Large screwdriver with interchangeable bits
- Needle-nose pliers
- Wire cutter
- Utility knife
- Hole punch
- Crescent wrench
- Stainless-steel ruler
Dimensions: 8 1/2" x 6 1/2" x 5"