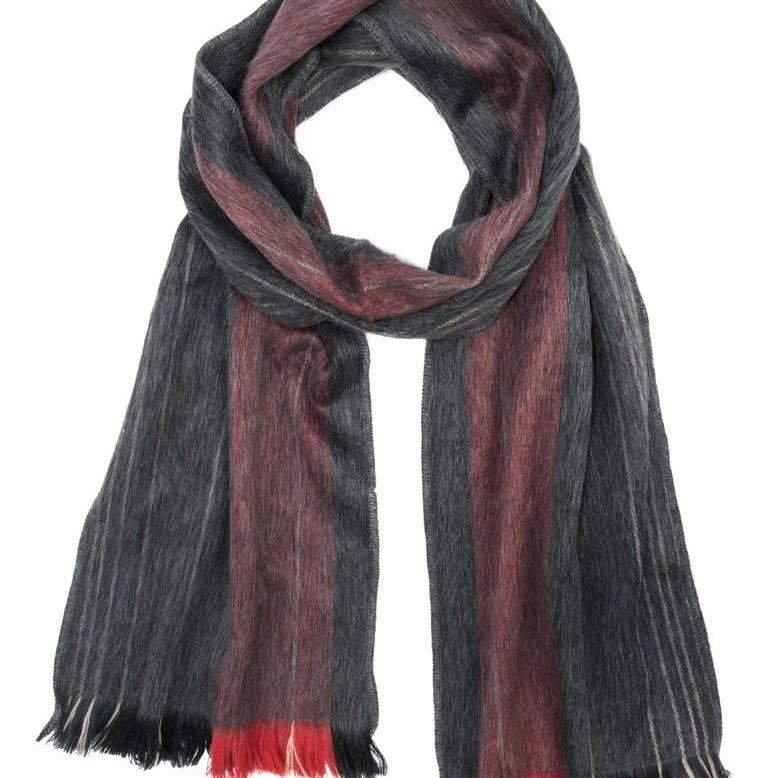 Alpaca Scarf - Coal Fire
$59.99
These Coal Fire Alpaca Scarves, with charcoal gray blended with fiery red, are handmade using traditional weaving methods. Alpaca wool is a natural, hypoallergenic & sustainable material coming from the yearly shear of the eco-friendly Alpaca. A naturally grown fiber, Alpaca requires no mechanical or chemical processing. The spun fibers are artisanally loomed into handsome, luxuriously soft and durable scarves.
Superior to sheep's wool, Alpaca produces softer, silk-like strands that act as insulators against both cold and heat. These air pockets create the fabric's breathability, keeping you cool even during the summer. Alpaca fibers create an extremely light, fine, warm and cashmere-like texture that feels wonderful on the skin.
Alpaca Scarf Features:
Eco-friendly
Hypoallergenic
Handmade
Soft
Light weight
Insulates against cold and heat
Breathable
Durable and easy to maintain
Size – 11" x 78" 
Care & Maintenance: Handwash in cool water. Air dry. Low setting on dryer for 10 minutes for maximum fluffiness. Dry Clean is always a recommended option. MAINTAIN using a light bristly brush, brush in direction of the alpaca fiber. Iron on low in same direction.
About Shupaca: An environmentally consciousness company that specializes in handmade Alpaca products and is dedicated to fair trade and responsible business practices.