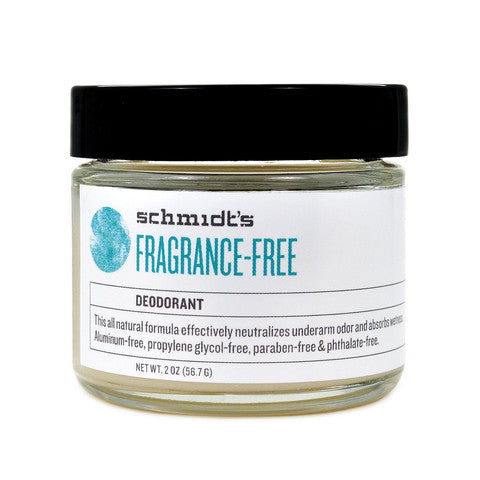 Schmidt's Natural Deodorant - Fragrance Free (Glass Jar)
$11.99
Looking for a fragrance-free, all natural deodorant that's free of all the toxic chemicals, free of fragrance and essential oils and breaks traditional application conventions? We've found you a brand! Who knew deodorant could be so compelling? We're just as surprised!
Crafted by hand in the Pacific Northwest, Schmidt's Fragrance-Free Deodorant is made from a signature blend of 100% all natural ingredients that really works. Their formula effectively neutralizes underarm odor and absorbs wetness without the use of aluminum or other harmful chemicals, and works as well, if not better, than commercial brands (and works better than anything else we've personally tried). Schmidt's says the Fragrance-Free is ideal for sensitive skin.
This product is vegan, cruelty-free, propylene glycol-free, paraben-free and phthalate-free. An alternative to conventional plastic deodorant applicators, Schmidt's Deodorant is packaged in recyclable and reusable glass jars with comes with a spatula to scoop out a pea-sized amount that you then apply with fingers to each underarm. It took a little getting used to the unconventional application of this product (scoop from jar with spatula, apply deodorant with fingers), but we have become true converts! 
We love everything about this product: it's efficacy, the option for an effective fragrance-free version, the method of application, the ingredients, the packaging, and that Jaime, the owner of Schmidt's Deodorant, was excited to have the line included on ButchBasix.com. 
Schmidt's Fragrance-Free Deodorant Features:
100% all natural ingredients that really work
Ideal for sensitive skin
Fragrance-free
Vegan
Cruelty-free
Propylene glycol-free
Paraben-free
Phthalate-free
Aluminum-free
Packaged in recyclable and reusable glass jars
Ingredients: Butyrospermum parkii (shea butter), Sodium bicarbonate (baking soda), Maranta arundinacea (arrowroot) powder, Theobroma cacao (cocoa) seed butter, Tocopherol (vitamin E), Humulus lupulus (hop) extract
About the Schmidt's Brand: Schmidt's Deodorant owner and founder, Jaime Schmidt, was driven by the desire to end dependence on commercial brands that are often out of touch with the needs of today's consumer. Based in Portland, Oregon, the company launched in 2010 with an extended line of body care products. Encourage by customer feedback and demand, Schmidt's quickly found its niche in the natural deodorant market.