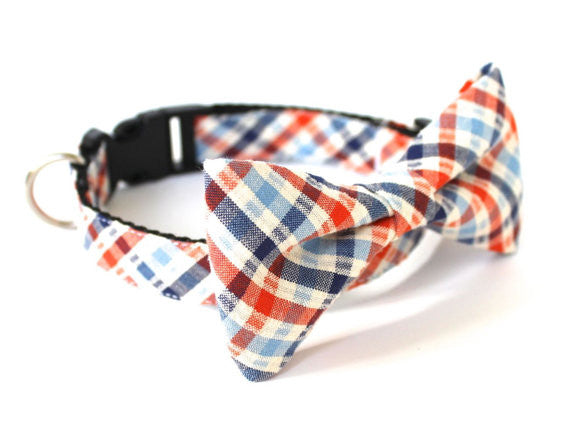 Bow Tie Dog Collars - Orange & Blue Plaid Seersucker
$39.99
These fancy and functional dog collars with bow ties are handmade in San Francisco by UsagiTeam. With personal attention to detail, the makers craft each bow tie collar with the highest quality fabric. Chances are your dog will look more dapper than the dapperest dandy in town. 
Availability: In some instances, if we don't have stock on hand, the local artisan will produce these bow tie dog collars as your orders come in, so it may take up to a week to ship to you due to lead times.
UsagiTeam's unique designs are perfect for fancy occasions but also durable enough for an everyday romp through the park. The removable bow tie is securely attached with double velcro straps which makes it easy to dress Fido and Fefe up or down. Each collar is made with heavyweight webbing, welded D-Rings, triple stitched stress points and comfortable contoured buckles.
These bow tie collars come in a variety of plaid patterns and come in various sizes. Each size is adjustable like most standard nylon dog collars on the market. To find your dog's correct size, use a measuring tape to find the circumference of the neck where the collar normally rests. Make sure not to pull too tight or too loose. No measuring tape? Use a string then measure it against a flat ruler. Based on your measurement, select the appropriate size option.