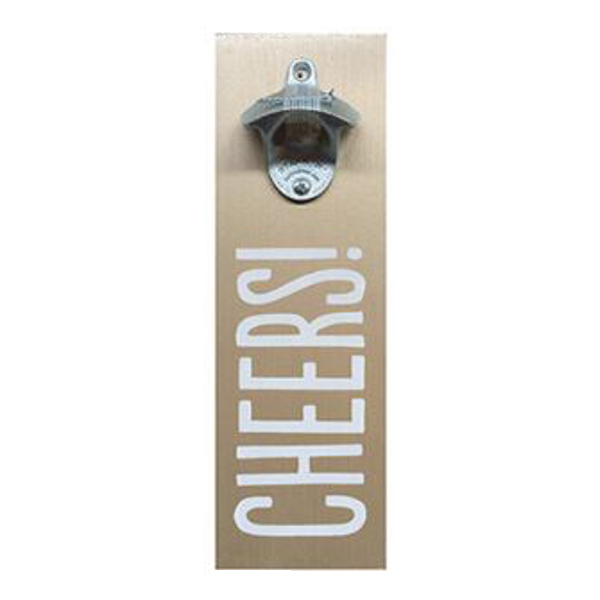 Wall Mount Bottle Opener - Cheers
$36.99
Once we got our hands on one of this Gold Wall-mounted Bottle Opener with printed white "CHEERS" from San Francisco based company, FluffyCo, we wondered how we ever got along without one. This home décor addition is perfect for those who like functional wall art that makes life a little simpler and more convenient. We also think the Wall-Mount Bottle Opener makes a prefect creative and functional gift. It's easy to install since it comes with a predrilled hole, hanging instructions, and hardware. The 4" x 12" wall-mount bottle opener is made from locally sourced domestic maple plywood.
Hand screen–printed and sealed using water–based materials
American made StarrX cast–iron opener
Pre-drilled hole for easy hanging.
Hanging instructions and hardware included
Dimensions: 4" x 12"
Smooth edges
Locally sourced domestic maple plywood
100% made in San Francisco
About FluffyCo: FluffyCo is an indie design company, located in San Francisco, which produces sustainable and design-driven products. Dedicated to a sweat-shop free ethos, most of their products are created by carefully vetted, small and family-owned businesses in the USA or are hand-made in their own San Francisco studios. Their designs are often nature inspired with an urban twist. They pride themselves on collaborating with small and family-owned businesses to complete the production line. They always consider the environmental aspects of design, using minimal packaging, local production, water based inks (as opposed to plastic based), and often use eco + organic materials. All that and their products are affordable.