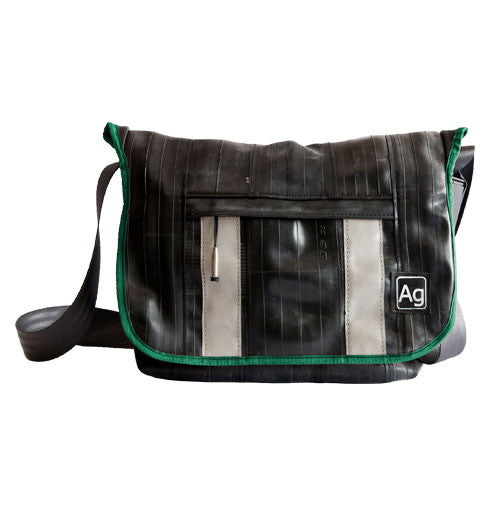 Recycled Bike Tube Messenger Bag - The Pine
$112.99
The Pine, considered a small messenger bag, is 10 inches long and provides a zippered outside pocket that can hold, for example, your cell phone and is protected from the elements by a rain flap. Inside the Pine, there's enough room for your commute or day trip sundries. The exterior of this small messenger style bag is made from reclaimed bike inner tubes which makes it durable and water-resistant - ideal for folks who commute outdoors, rain or shine.

Small Messenger Bag Features:
Durable, water resistant exterior constructed from upcycled inner tubes
Durable shoulder strap made from upcycled seatbelt
Zippered exterior pocket Presta valve zipper pull
Internal slip pocket and 3 pen pockets
10" (L) x 4" (W) x 8.5" (H)
About Alchemy Goods: Like medieval alchemists who sought to turn lead into gold, Alchemy Goods, a Seattle based company, turns "useless" stuff like blown-out inner tubes and old seatbelts into stylish and urban bags, belts and wallets. AG doesn't just recycle, they upcycle by reclaiming materials that are perceived to be of lesser value and turn it into something of greater value. So far they've spared landfills and reclaimed over 400,000 inner tubes (and counting). All their materials are sorted, cut, cleaned and prepped in their Seattle workshop and assembled in a local sewing shop.
Important to note is that Alchemy Goods is a Certified B Corporation which means it has been certified by the nonprofit B Lab to meet rigorous standards of social and environmental performance. In 2013 AG received the special honor by B Corp as one the Best of the Best for Environmental Impact by scoring in the top 10% of all B Corps for overall social and environmental impact. Click here to learn more about B Corps.